Museums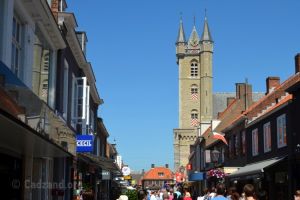 Right in the heart of the city Sluis is the only Belfort of the Netherlands. The council meets here monthly. Also concerts and lectures are given in this unique building, as well as exhibitions. And there is a museum as well. The town hall cellar Various exhibitions can be seen in the town hall cellar. Furthermore, there is also a little old prison here. The ...
More than 1,200 Belgian and 400 foreign beers from 50 countries, of course with matching glasses. You can also taste plenty of beers, like La Chouffe on draft, Oerbier, Babar, Dikkenek ... and several Trappist or monastery beers. Also lots of beer-related objects such as mirrors, beer trays, billboards and the like. The museum is housed in the cozy basement of a house located along the Stoepepad ...
Bizarium is a museum full of weird inventions. A museum of brilliant inventors and their boundless imagination, their technical ingenuity and above all immense passion. Bizarium inspires and surprises with genius, scientific and wacky inventions. Think of a flying bicycle, a walking submarine, a hair helmet, a swimming umbrella, as well as bizarre ideas from geniuses like Leonardo da Vinci, ...