Museum Het Belfort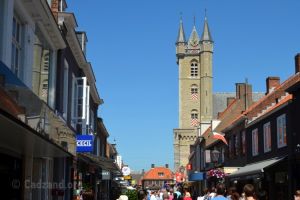 Right in the heart of the city Sluis is the only Belfort of the Netherlands. The council meets here monthly. Also concerts and lectures are given in this unique building, as well as exhibitions. And there is a museum as well.
The town hall cellar
Various exhibitions can be seen in the town hall cellar. Furthermore, there is also a little old prison here.
The council chamber
The City Council makes the council chamber available for weddings, concerts and presentations. In the council chamber you'll also see the richly decorated tribunal seats and a series of shields of rulers and/or institutions that were important for the city of Sluis.
The history of Sluis
On the third floor of the Belfort you'll be introduced with the story about the creation of Sluis and its economic boom under Burgundian rule. You'll discover which role Sluis played as a military bastion in a troubled border region. You'll also see how the city developed itself as a coastal town, a commercial center and a culinary meeting point.
Van Dale and language
On the fourth floor of the Belfort one of its most famous inhabitants is highlighted: teacher Johan Hendrik van Dale. This museum floor focuses on everything that has kept Van Dale busy in his life. His personal life, his family and his work as a teacher is well represented. In the last five years of his short life Van Dale worked on a dictionary. For this reason there is a variety of dictionaries on this museum floor.
The Belfort tower
The Belfort tower is also part of the Belfort Museum and provides a stunning view of the city of Sluis and the surrounding areas.
Furthermore Museum Het Belfort is near the following sights: Casino Admiral (±1,0 km), Laser Gaming Toversluis (±1,1 km), Bowling Toversluis (±1,1 km) & Toversluis Family Fun Parc (±1,1 km).
For information:
Groote Markt 1, Sluis
tel. +31 117 712 604
web.
Website