Cultuurforum Aardenburg - Museum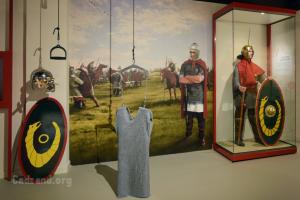 Museum Cultuurforum Aardenburg invites visitors to discover the rich history and culture of Aardenburg and its surroundings. Located in the oldest town in Zeeland, this modern museum offers a fascinating glimpse into the region's history, art, and culture.
What Can You Expect?
Local History and Heritage: Explore the unique history of Aardenburg, with a special focus on its Roman origins, medieval development, and the cultural flourishing of the town.
Interactive Exhibitions: The museum hosts a series of dynamic and interactive exhibitions that take visitors on a journey through time, from the Roman period to the present day.
Art and Culture: In addition to historical artifacts, the museum provides a platform for contemporary art and culture, with rotating exhibitions featuring local and regional artists.
Educational Programs: The museum offers educational programs for schools and groups, aimed at enriching knowledge of local history and culture.
Events and Workshops: Regularly, various cultural events and workshops are organized, giving visitors the opportunity to actively participate in cultural activities.
A Must-See for Culture Enthusiasts
Museum Cultuurforum Aardenburg is a must-see destination for anyone interested in the history and culture of Zeeland. The museum offers an engaging and enriching experience for visitors of all ages.
Museum Cultuurforum Aardenburg is a vibrant meeting place where history, art, and culture converge. Whether you are a local resident or a tourist, the museum offers a unique experience.
Visit Museum Cultuurforum Aardenburg and immerse yourself in the rich cultural tapestry of Zeeland!
Furthermore Cultuurforum Aardenburg is near the following sights: 't Krekeltje Speeltuinen & Pannenkoekenboerderij (±3,6 km) & Victoria Doolhof (±3,6 km).
For information:
St. Bavostraat 3, Aardenburg
tel. +31 117 492 888
web.
Website