Nieuwe Sluis Lighthouse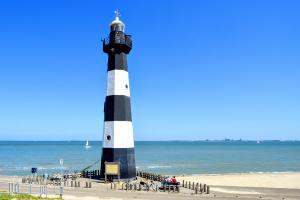 The 'Nieuwe Sluis' is a lighthouse in the township of Nieuwesluis, a few miles to the west of the heart of Breskens, in the Dutch province of Zeeland. The lighthouse was designed by Quirinus Harder and built in 1866-1867. The octagonal, black-and-white painted tower stands on the sea wall at the entrance of the Westerschelde. The tower has a ...
Molen van Cadzand-Dorp
When entering Cadzand, the first thing that attracts your attention is the windmill, which has been restored in 1977 and which can be ...