Waterdunen - Nature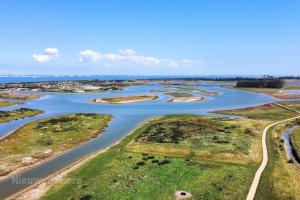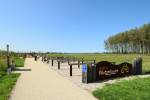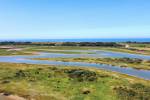 Waterdunen, situated in the beautiful West-Zeeuws-Vlaanderen. This area, where nature, recreation, and coastal defence merge, is a must-see for every visitor. Wander through the dynamic landscape and experience how the sea water transforms the area twice daily. Safely behind the dykes, you can enjoy tranquil walks in every season and observe the abundant birdlife.
The Robust Waterdunen
Waterdunen is not only a sanctuary for birds but also serves as a bastion against flooding. Thanks to an innovative tidal sluice, there's ebb and flow behind the dyke, giving the area its unique character. At the same time, it provides space for a holiday park that blends harmoniously into the surroundings and contributes to the local economy. It serves as a testing ground for entrepreneurs who cultivate saline vegetables and shellfish.
Waterdunen Welcomes You
Since September 2019, the landscape of Waterdunen has been enriched with salt water, resulting in an explosion of flora and fauna. The architecturally unique bridges and covered bird hides offer visitors a remarkable view and the chance to spy on birds up close. For a deeper insight, join a nature guide from Het Zeeuwse Landschap.
Taste the Salty Flavour of Waterdunen
Here, nature, culture, and economy converge. Entrepreneurs harness the salty waters and grow saline vegetables such as samphire, sea lavender, and oysters. This culinary journey is something every visitor should experience.
Activities in Waterdunen
Walking tours: Explore the area on foot through various walking routes. Perfect for nature enthusiasts and birdwatchers.

Cycling routes: Traverse the expansive area on two wheels. Various bike rental points are available.

Culinary adventures: Visit local eateries and taste dishes made with fresh ingredients from the region.

Guided tours: Book a tour with experienced guides to uncover the secrets of the area.
Additional Tips:
Visit the nearby Breskens, a picturesque fishing village with delightful seafood restaurants.

For the adventurous visitors, there are opportunities to kayak or canoe in the waters of Waterdunen.

Check the events schedule: there are frequently special events or workshops in the area.
Whether you're a nature lover, birdwatcher, or culinary adventurer, Waterdunen in Zeeuws-Vlaanderen has something for everyone. Discover it for yourself!
Furthermore Waterdunen is near the following sights: Groede Podium (±1,4 km), Nieuwe Sluis Lighthouse (±1,9 km), Afslag Breskens (±2,8 km), Swimming pool Scheldeveste (±3,3 km) & Pierewiet Play Farm (±3,6 km).
For information:
Walendijk, Breskens
web.
Website