Casino Admiral - Attraction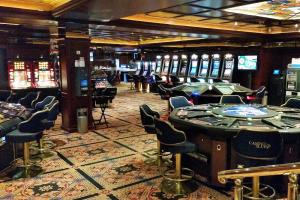 Experience the luxury gaming environment in Zeeland's largest casino. At Casino Admiral in Sluis, you can enjoy the very best the casino world has to offer, with a wide range of games for both individual players and groups. The classic casino games such as roulette and slots are on hand to provide you with an authentic casino experience.
The ambiance at Casino Admiral is one of comfort and elegance, where friendly and personal service takes centre stage.
The minimum age for entry is 18 years.
Have an exciting and relaxing time at Casino Admiral, and may luck smile upon you during your visit to Sluis.
Furthermore Casino Admiral is near the following sights: Bowling Toversluis (±40 m), Laser Gaming Toversluis (±50 m), Toversluis Family Fun Parc (±100 m) & Museum Het Belfort (±1,0 km).
For information:
Nieuwstraat 83b, Sluis
web.
Website