Snowworld Terneuzen - Sport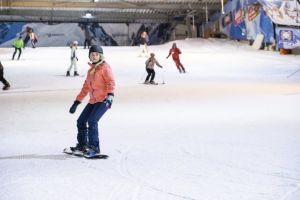 Feel it. See it. Experience how cool Snowworld Terneuzen is!
Our indoor snow park is a must for even the most avid skier / snowboarder. Our challenging amenities in the field of sports, as well as our hospitality and entertainment leaves nobody in the cold. Surrounded by two beautiful ski slopes, you'll experience the feeling of excitement, fun and relaxation; the coolest experience!
Everyone has their own snow feeling!
Snowworld Terneuzen overwhelms you. A unique backdrop of shades of white, stainless steel and striking blue light underscores what you feel and perhaps already know; the fun is here in snow and ice! Here you can experience the ultimate snow sensation. In the wide and varied range you will find yourself again. Your choice is quickly made. Skiing and snowboarding to your hearts content, with or without a professional ski instructor. What are you waiting for?!
For information:
Book tickets online
Zeelandlaan 3, Terneuzen
tel. +31 115 822 990
web.
Website