Verdronken Land van Saeftinghe - Nature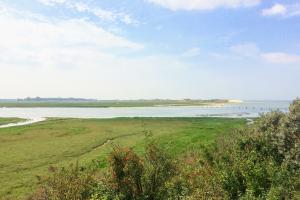 Located near Antwerp, on the eastern side of Zeeuws-Vlaanderen, is one of the largest brackish water areas in Europe. Created by the force of the sea, this nature reserve has developed into a unique ecosystem of mudflats, salt marshes and creeks. It is a paradise for bird lovers, as the area attracts thousands of migratory birds every year.
Visitors will be surprised by the beauty of this area, which partly dries out at low tide and floods again at high tide. Visitors can take part in organised excursions, where experienced guides tell all about the flora and fauna of this unique area. A walk through the Drowned Land of Saeftinghe is an unforgettable experience for nature lovers and photographers.
One of the most striking features of the Verdronken Land van Saeftinghe are its vast expanses of mudflats and salt marshes, which are intersected by numerous creeks. It is a wonderful place to walk and enjoy the peace and quiet of nature. Visitors can also admire the impressive Scheldt estuary, where the river Scheldt flows into the North Sea.
In short, the Verdronken Land van Saeftinghe is a wonderful destination for nature lovers and adventurers looking for a unique and unforgettable experience. Whether you want to admire the birds, take a walk through the mudflats and salt marshes or simply enjoy the peace and quiet of nature, this area has something for everyone. Above all, don't forget to bring your camera and capture the unforgettable moments!
For information: