Verdronken Zwarte Polder - Nature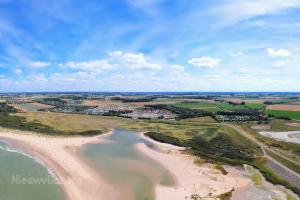 Located near Nieuwvliet on the border of the Netherlands and Belgium. The area gets its name from the black colour of the mud, created by the presence of organic material. It is a beautiful place to walk and enjoy the unspoilt nature.
One of the main reasons to visit the Verdronken Zwarte Polder is the peace and quiet you can find here. The area is unique not only for its landscape, but also for its flora and fauna. It is a paradise for bird lovers, as the area attracts thousands of migratory birds every year. Here you can spot many birds such as the avocet, oystercatcher and silver plover.
A tip is to combine your visit with one to the nearby Het Zwin nature reserve. Here you can not only enjoy the beautiful nature, but also visit the visitor centre and learn more about the history and importance of the area.
Finding shark teeth
Finding fossil shark teeth on the beach is a popular activity for many tourists in Cadzand and Nieuwvliet. Moreover, a shark's tooth is a nice souvenir. A cart, sieve, bucket and shovel are guaranteed to provide hours of beach fun for children.
In the Verdronken Zwarte Polder nature reserve, you will mainly find smaller shark teeth and fish teeth, fish vertebrae, stingray skin chunks and other small things. Most fossils here are not directly by the sea, but closer to the sea than to the dunes. If you see places with lots of shells, it is advisable to look there. The best find spot is near the radar tower in Nieuwvliet.
In short, the Verdronken Zwarte Polder is a wonderful destination for nature lovers and hikers looking for peace and quiet. Don't forget to bring your camera and capture the unique moments!
Furthermore Verdronken Zwarte Polder is near the following sights: Swimming pool Resort Nieuwvliet-Bad (±400 m), Playgrounds Resort Nieuwvliet (±450 m), Miniature Nieuwvliet (±500 m), Pierewiet Play Farm (±2,5 km) & Shortgolf Cadzand-Bad (±3,0 km).
For information: